The Dredge Research Collaborative is an independent 501c3 nonprofit organization which investigates human sediment handling practices, through publications, events, and other projects. Our mission is to improve sediment management through design research, building public knowledge, and facilitating transdisciplinary conversation.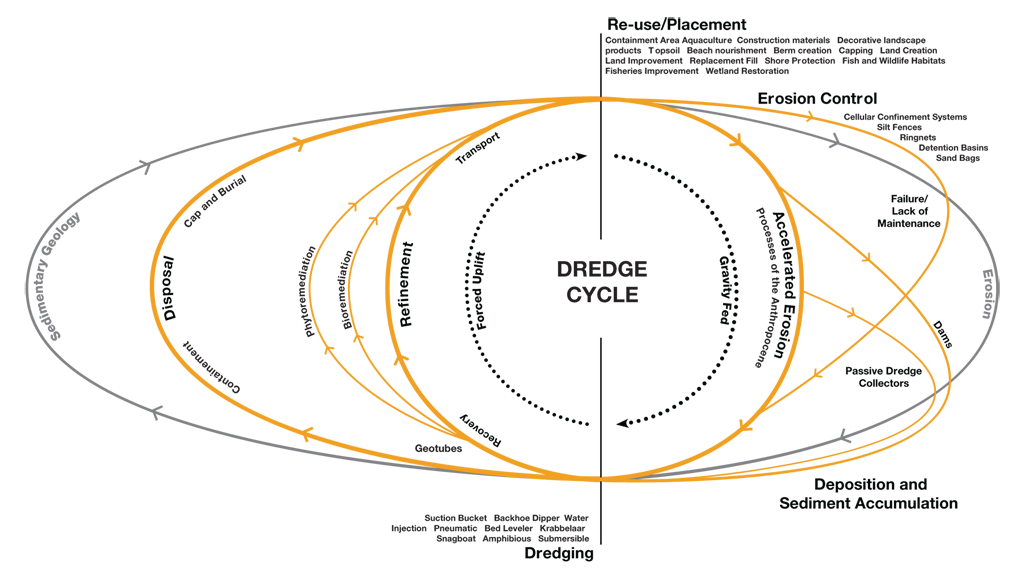 CURRENT MEMBERS
Sean Burkholder (@seanburkholder) has spent the last decade dealing with projects of particular relevance to the Great Lakes region including urban vacancy, infrastructural re-purposing and dredge material management. He is an assistant professor of landscape architecture in the School of Design at the University of Pennsylvania.
Brian Davis (@faslanyc) is an assistant professor of landscape architecture at Cornell University.  He teaches design studios as well as classes on construction technology and Latin American landscapes.  His research looks at the relationship between landscapes and instruments, with a particular geographic focus in Latin America and New York State.
Rob Holmes (@rbhlms) is an assistant professor of landscape architecture at Auburn University. His research is primarily concerned with how infrastructures constructed in support of urbanization relate to landscape change.
Justine Holzman (@justineholzman) is an assistant professor of landscape architecture at the University of Toronto and co-author of Responsive Landscapes (2016). She researches overlapping digital and material practices of modeling and making in the production of large-scale landscapes.
Tim Maly (@doingitwrong) is a writer and design journalist whose work focuses on the near future of design, architecture, and infrastructure. He is a Fellow at Harvard's metaLAB and a Lecturer in Industrial Design at the Rhode Island School of Design. His writing has appeared in Wired, The Atlantic, Volume, and Urban Omnibus.
Brett Milligan (@freeassocdesign) is an assistant professor of landscape architecture and environmental design at the University of California, Davis, where he teaches design studios and courses in geography.  His research focuses on land-water interfaces, seeking to meld ecological and infrastructural performance with aesthetics and expanded forms of public engagement.
Gena Wirth (@genevawirth) is design principal at SCAPE Landscape Architecture in New York City. Her work focuses on climate change resilience, infrastructural landscapes for people, and the role of ecology in the urban realm.
INTERN-COLLABORATORS
Past intern-collaborators are:
Michael Biros
Michelle Benoit
Alex Hill
Kate Lenahan
Nathalie Mitchell
Gena Morgis
Inwa Park
Nicholas Shannon
Crystal Xing
Gavin Zeitz
INACTIVE MEMBERS
Stephen Becker (@stphnbckr) does real estate design and development in New York City. His work and research are focused on the complex relationships among aesthetics, performance, finance, bureaucracy, and culture in the design and construction of buildings and infrastructure.