DredgeFest California | Key Findings and Recommendations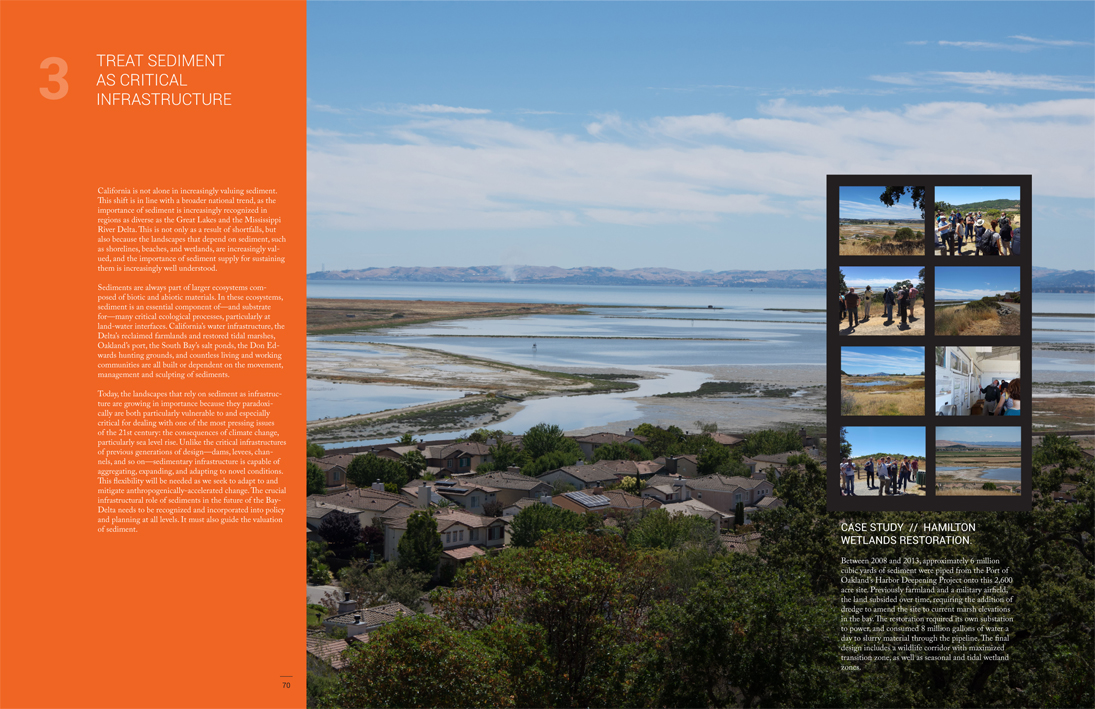 The DredgeFest California Key Findings and Recommendations have been synthesized from the work of DredgeFest California, a week-long event held in the Bay Area in July 2016. They draw on the work done by five teams across five days of design workshops, discussions with many different experts, two days in the field with the DredgeFest California public tours, and the background research conducted by the Dredge Research Collaborative prior to the event. Each recommendation summarizes a key principle that we believe should guide the design, planning, and management of sediment in the Bay-Delta.
Download the report here:
[executive summary only]
for print [full size] [reduced size]
for screen [full size] [reduced size]
Along with the release of the report, the Dredge Research Collaborative has partnered with Landscape Metrics to create "The Hidden Sediment Reserve", an interactive web visualization that illustrates the sediment needs of Bay-Delta wetlands and allows users to explore the sediment volumes trapped within the Bay-Delta watershed's many reservoirs.
Cite this document: Milligan, B., Holmes, R., Wirth, G., Maly, T., Burkholder, S., & Holzman, J. Dredge Research Collaborative. (2016). DredgeFest California: Key Findings and Recommendations. Retrieved from http://dredgeresearchcollaborative.org/works/dredgefest-california-white-paper/.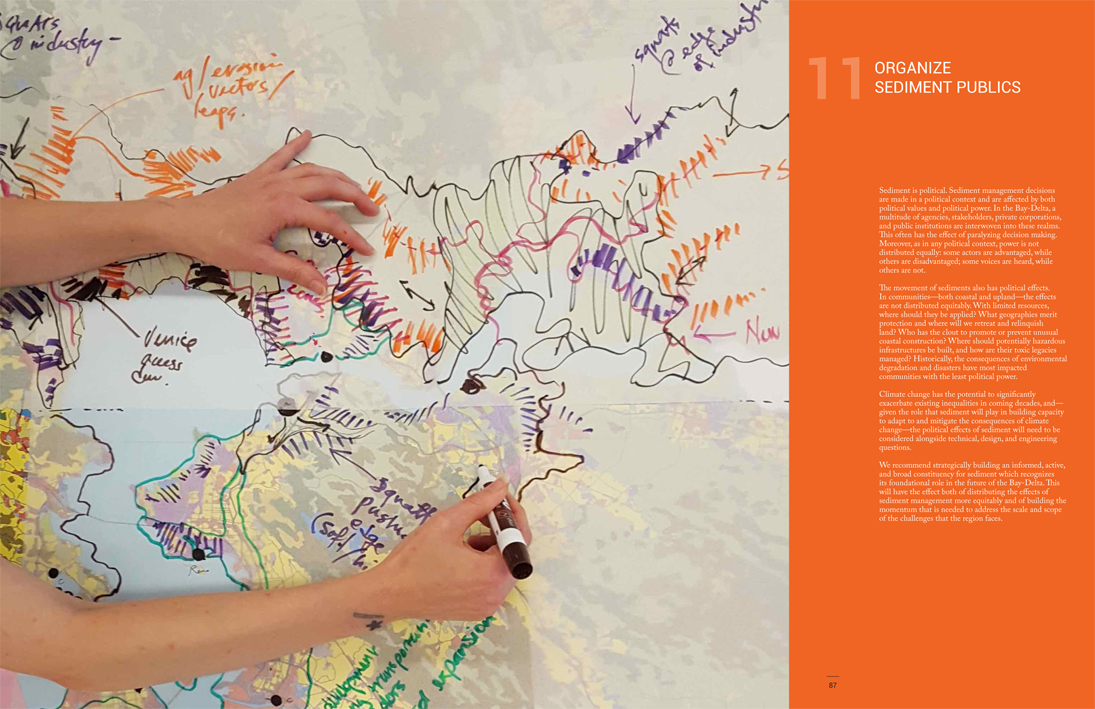 Prepared by
Brett Milligan
Rob Holmes
Gena Wirth
Tim Maly
Portions of this document were provided in an earlier draft to DFCA participants. Sean Burkholder and Justine Holzman contributed significantly to the preparation of that draft, particularly what is now sections 03 and 05 in this document.
Drawings
Many of the drawings in this document were prepared by the DRC's 2016 summer intern-collaborators, working under the supervision of Gena Wirth. They are:
Nick Shannon
Kate Lenahan
Michael Biros
Crystal Xing
DFCA Workshop Collaborators
Mario Accordino
Alexandra Zahn
Paul McBride
Andrew Prindle
Brittany Gray
Alejo Kraus-Polk
Paige Courtney
Jinhee Ha
Kate Granlund
Jamie Phillips
Nico Wright
William Reinhardt
Jackson Blalock
Johanna Hoffman
DFCA Workshop Leaders
Neeraj Bhatia
Richard Hindle
Justine Holzman
Forbes Lipschitz
Halina Steiner
Nicholas Pevzner
Steph Carlisle
Brennan Cox
Meg Studer
Gena Wirth
Kees Lokman
Derek Hoeferlin
Matthew Seibert
DFCA Experts, Reviewers, and Tour Guides
Janet Bennett, Dutra Dredge Museum
Bryan Brock, CA Dept of Water Resources
Steve Carroll, Ducks Unlimited
Warner Chabot, San Francisco Estuary Institute
Jessica Davenport, Delta Stewardship Council
John Durand, UC Davis
Bill Fleenor, UC Davis
Joseph Gailani, U.S. Army Corps of Engineers, Engineer Research and Development Center
Brenda Goeden, San Francisco Bay Conservation and Development Commission
Eric Joliffe, U.S. Army Corps of Engineers, S.F. District
Edward Keller, U.S. Army Corps of Engineers, S.F. District
Thomas Kendall, U.S. Army Corps of Engineers, S.F. District
Jim Levine, Montezuma Wetlands
Jeremy Lowe, San Francisco Estuary Institute
Lester McKee, San Francisco Estuary Institute
Elizabeth Murray, U.S. Army Corps of Engineers, Engineer Research and Development Center
Dan Ray, Delta Stewardship Council
Diana Sokolove, San Francisco Planning Department
Funding
The four Delta scenarios were developed by Rob Holmes and Brett Milligan as a component of "Wicked Ecologies", a research project supported by funding from the Graham Foundation for Advanced Studies in the Fine Arts.
Sponsors
DredgeFest California was sponsored by Great Lakes Dredge and Dock, Landscape Architecture Magazine, the UC Davis Hellman Fellows Program, the University of California, Davis' Department of Human Ecology, Groundworks Office, the Delta Protection Commission, the University of California, Berkeley's Department of Landscape Architecture and Environmental Planning, and the Dutra Museum Foundation.