Mapping New York Harbor
#Projects
/ September 2012 /
Drawings
Rob Holmes and Brett Milligan /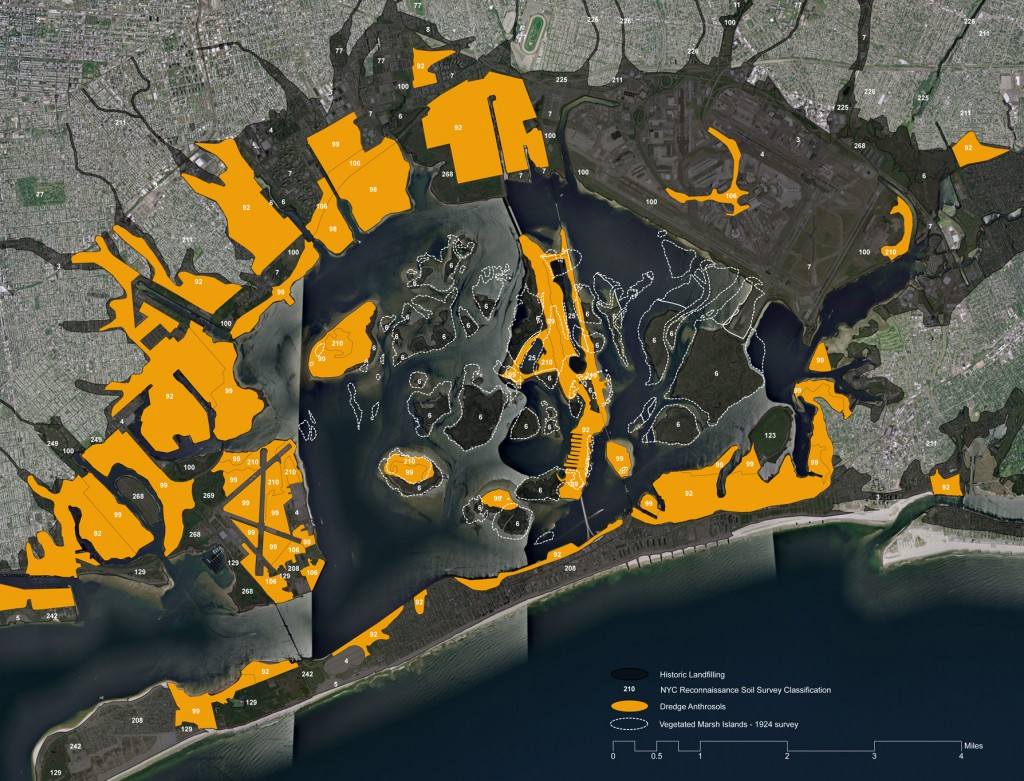 Filling Jamaica Bay John F. Kennedy Airport used to be marsh wetland. Likewise, thousands of acres encircling Jamaica Bay were also of a similar quality before being filled in with tons upon tons of earthen and non-earthen materials, as recently categorized in the New York City Soil Survey. In contrast to this relatively new urban terra-firma surrounding Jamaica Bay are the extant vegetated marsh islands within it. Due to a yet-undefined combination of influences believed to include channel dredging, filling, stream channelization, and treated wastewater and stormwater outflows, the islands are eroding at an ever-accelerating rate. Without additional anthropogenic influences – such as the creative application of dredged materials to reconstruct the islands – they may completely disappear as soon as 2020.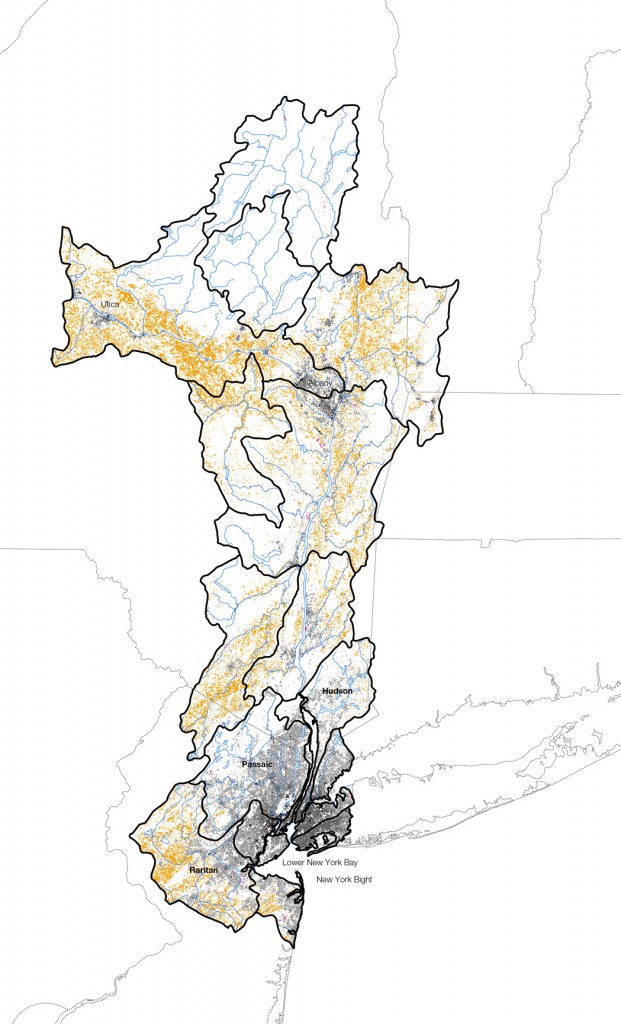 Accelerated Sediments The sediments that are dredged in the Estuary originate upstream, in one of the watersheds that drains to the Estuary -- with the largest being the Passaic, Raritan, and, particularly, the Hudson. This drawing maps land uses which are associated with major disturbance of sediment: in orange, agriculture, including both row crops and pasture, and in grayscale, urban land -- low-density development at the urban fringe is associated with particularly severe erosion. In magenta, the few open pit mines and quarries found in the Estuary's watershed are also highlighted. Source: Conterminous United States Land Cover -- 200-Meter Resolution, U.S. Geological Survey, National Center for Earth Resources Observation and Science.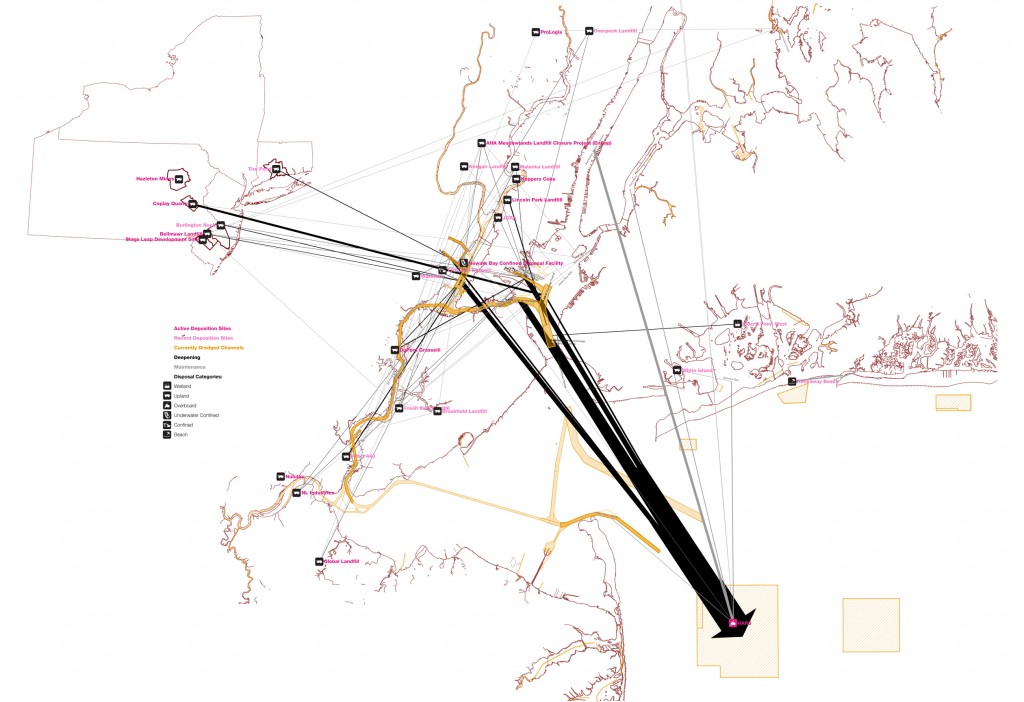 Dredging the Estuary Sediment that arrives and settles in the Estuary is dredged by the US Army Corps of Engineers and its contractors. Their dredging operations are typically classified as either "maintenance" or "deepening" operations. Maintenance operations are required to maintain existing channels at their current depths, and so represent the direct attempt to counteract the effects of the flow of sediments from the upstream watershed. Deepening operations, which currently comprise the great majority of dredging operations in the Estuary, are primarily in anticipation of the ultra-large container ships that are expected to begin arriving in New York and New Jersey once the Panama Canal Expansion is completed. Dredging is thus properly understood as a reaction to not only the accelerated pace of sedimentary erosion resulting from human activities, but also a reaction to the accelerating pace of global cycling of raw materials, manufactured goods, and other products along transoceanic shipping lanes. In addition to describing and categorizing dredging operations in the Estuary, this map also locates and categorizes the dredge disposal sites implicated by operations during the study period. The greatest volume of dredge, by far, has been disposed of at HARS, the Habitat Area Remediation Site, which is being created atop a contaminated underwater mountain of twentieth-century sediments and wastes known as the Mud Dump Site. Around the Estuary, other sites have received dredge for wetland restoration and beach nourishment projects (respectively Elders Point West and Rockaway Beach, for instance), to construct clean soil caps on heavily toxic sites along the Chemical Coast (DuPont Grasselli), or in underwater confinement facilities (the Newark Bay Confined Disposal Facility). At greater distances, trains and trucks have carried loads of silt, sand, clay, and rock to sites as distant as abandoned coal mines in central Pennsylvania and the "Tire Pond" near Hartford -- quite literally, a pond that was choked with millions of illegally dumped tires. This map is based on data recording dredging contracts and disposal sites from 2009 through early 2012. Source: Dredged Material Management Plan-Port of New York & State of New Jersey, US Army Corps of Engineers, New York District.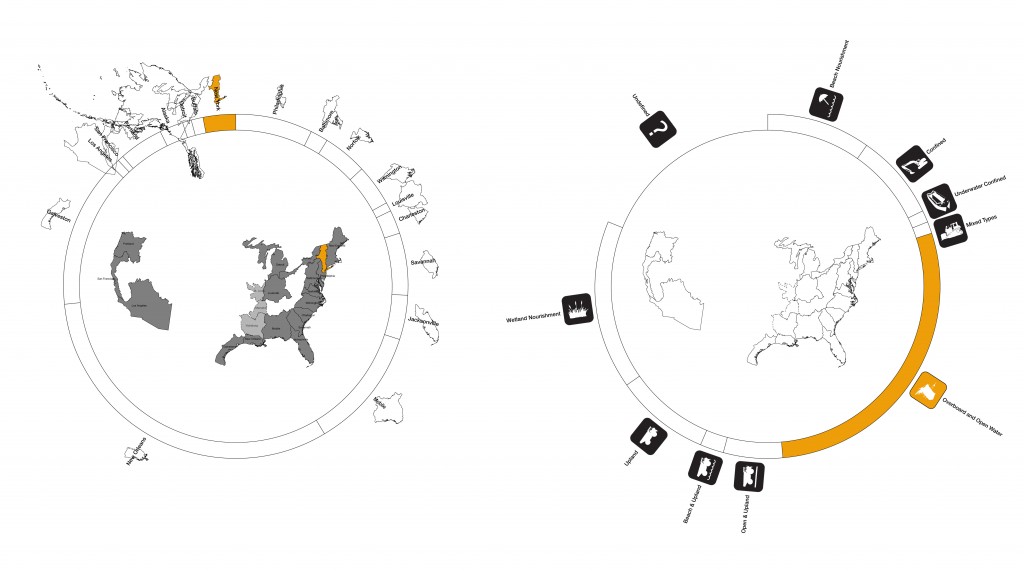 Volume (left) The relative volumes of sediments dredged in every Army Corps District that recorded a cumulative total of two million or more cubic yards of dredge activity between 2009 and 2011. The bulk of the nation's dredging, it can be seen, occurs along the Gulf Coast and in the Mississippi River Valley, culminating in the New Orleans District, which, despite its small geographic scope, alone accounts for a third of the nation's dredging activity. (The three districts shown in gray lacked data for two or three of the study years, and thus are not accounted for in the ring chart.) Disposal (right) Classifying the method and location of disposal for sediments dredged nationwide between 2009 and 2011.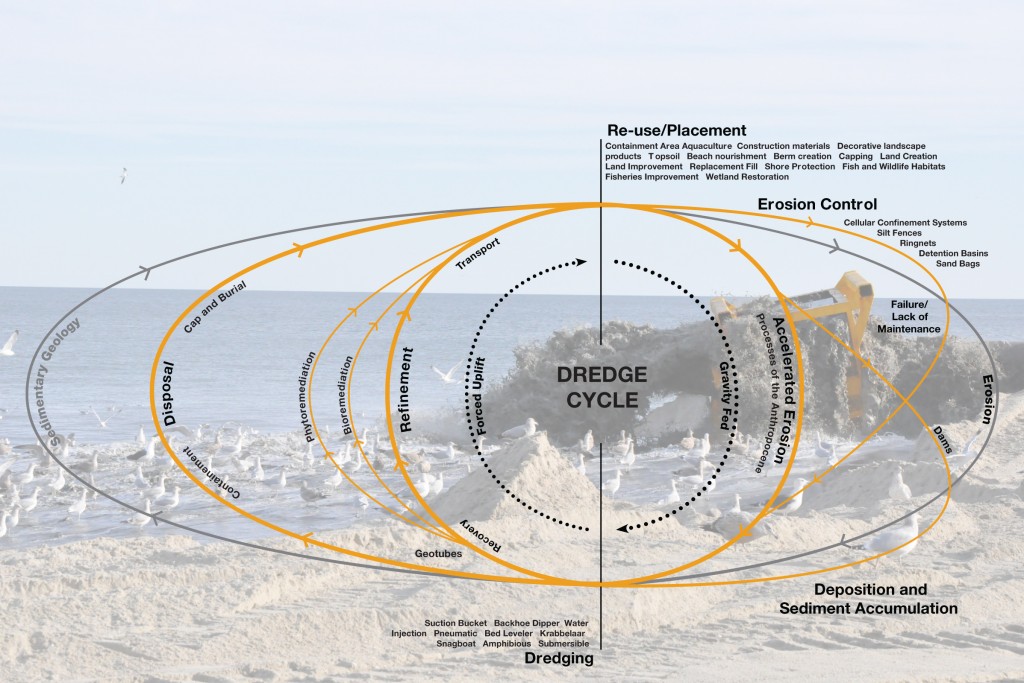 The Dredge Cycle.
Drawings produced by the Dredge Research Collaborative for exhibition at Studio-X NYC during DredgeFest NYC.
#Projects
September 2012
Drawings Rob Holmes and Brett Milligan