DredgeFest Great Lakes was a symposium, field expedition, and speculative design workshop about the human manipulation of sediments. It was an encounter between government agencies, designers, theorists, academics, corporate practitioners, industry experts, students, and the public. It was held in two Minnesota cities, Minneapolis and Duluth, from August 14-21, 2015.
Symposium Friday, August 14 to Saturday, August 15 University of Minnesota, Minneapolis (with additional tour Sunday, August 16 in New Richmond, WI)
Workshops Sunday, August 16 to Friday, August 21 University of Minnesota, Minneapolis
Tour Monday, August 17 Duluth
DredgeFest Great Lakes was organized by the Dredge Research Collaborative and hosted by the University of Minnesota's School of Architecture and Department of Landscape Architecture.
Why Dredging? Dredging is the linear industrial activity of uplifting sediments and transporting them to new locations. It is used to clear waterways, dig channels, clean polluted riverbeds, and change the course of rivers. We believe that dredging is a key component of a much wider cycle of human practices that accelerate, decelerate, transport, and materially alter sediments. Together, these activities constitute landscape architecture at continental scales. We are interested in how the full range of technologies, practices, and organizations operating within that wider cycle collectively alter sedimentary balances, both eroding and generating landscapes. DredgeFest begins with dredging, but DredgeFest is about much more than dredging.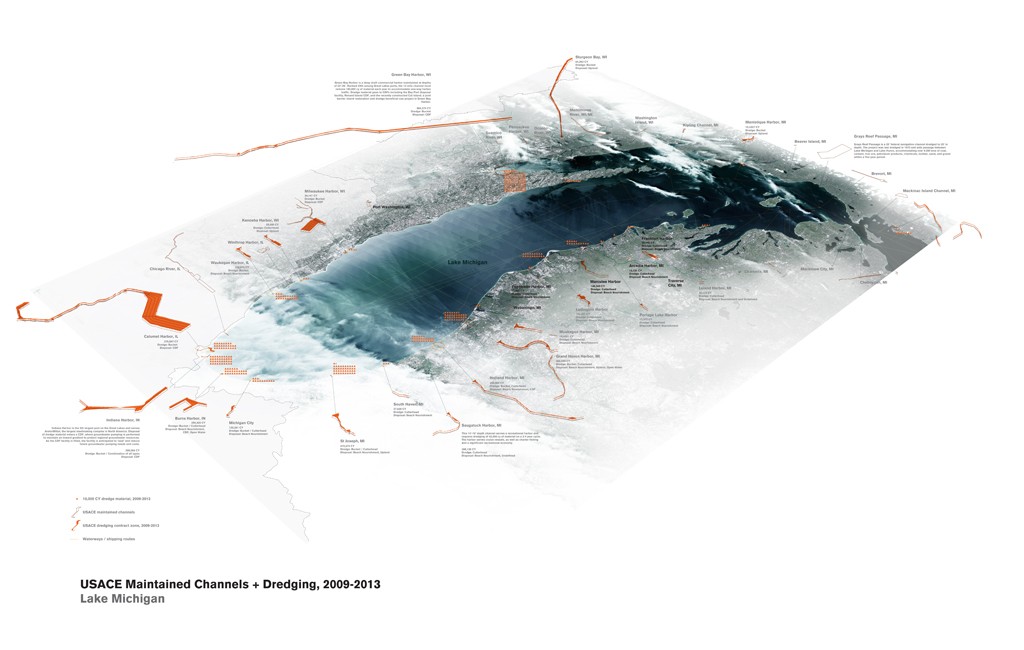 [Drawing from the DredgeFest Great Lakes exhibition; by Dredge Research Collaborative]
Why the Great Lakes? The Great Lakes basin is the largest source of freshwater in North America. At once landlocked and international, its lakes and landscapes have been extensively modified by human settlement and use. In a relatively short time period, the lakes' shores, bathymetry, ecosystems, and water quality have all been significantly changed. These conditions have profound implications for the design, planning and management of regional landscapes, from industrial ports to wildlife areas.
Shifting Baselines The theme for DredgeFest Great Lakes was Shifting Baselines. The phrase "shifting baseline" was introduced in landscape architect Ian McHarg's famous manifesto Design With Nature. It has since become a key conceptual tool in environmental circles. In 1995, a paper by Daniel Pauly showed that fisheries experts tended to think in terms of the state of the environment at the beginnings of their career. Baselines shift as new generations grow up thinking that whatever they grew up with was natural, ignoring exactly how much things has already been changed before they were born. But 'shifting' needn't be a passive verb. Baselines can be shifted with care and intent. For DredgeFest Great Lakes, we thought both about how baselines have been shifted and how they could be shifted in the future. DredgeFest brought together practitioners and stakeholders from a range of groups deeply concerned about these issues and offered participants an opportunity to explore the strange current conditions and long term futures of the region.
Sponsors DredgeFest Great Lakes was supported by donations and funding from:
University of Minnesota Imagine Chair in the Arts, Design and Humanities
University of Minnesota Imagine Special Events Fund
University of Minnesota College of Design
University of Minnesota School of Architecture
Landscape Architecture Magazine
The workshops were supported by:
The Duluth tour was supported by:
Bay West City of Duluth
Duluth Seaway Port Authority
Additional promotional support was provided by Minnesota chapter of the American Society of Landscape Architects.