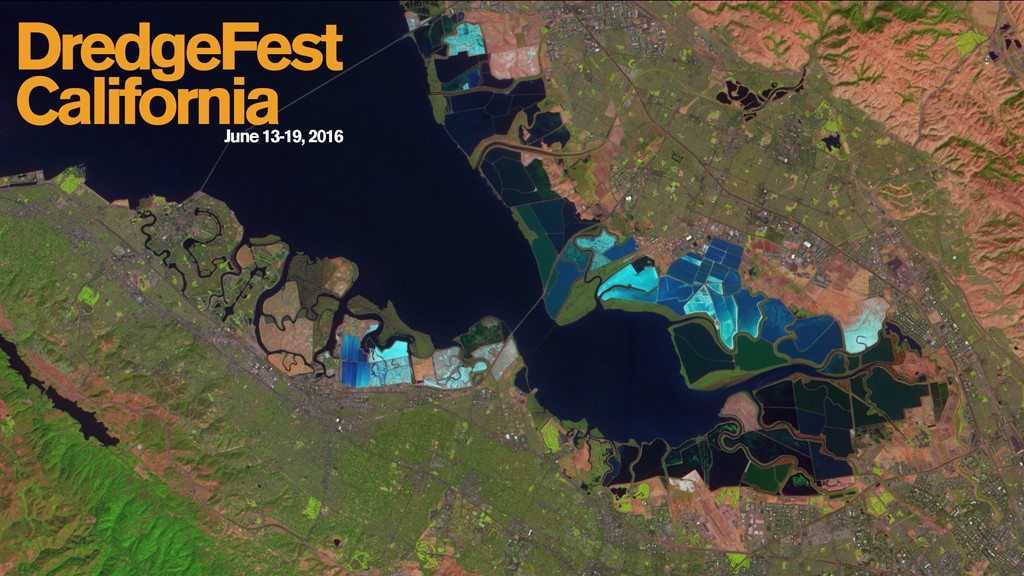 DredgeFest California was a week-long event held in June 2016 about the human manipulation of sediments in California's Bay-Delta, from navigational dredging for the Port of Oakland to the construction of levees in the watery tracts of the delta. It was a transdisciplinary encounter between government agencies, designers, theorists, academics, corporate practitioners, industry experts, students, and the public. It situated sedimentary management in the context of critical current local conversations and issues, including climate change, sea-level rise, wetland restoration, the cultural landscape heritage of the Bay-Delta, and public waterfront access.
A white paper delineating key findings and recommendations from DredgeFest California can be accessed here.
DredgeFest California included five days of design workshops, discussions with many different experts, two days in the field with the DredgeFest California public tours, and background research conducted prior to the event. It was supported by Great Lakes Dredge and Dock, Landscape Architecture Magazine, the UC Davis Hellman Fellows Program, the University of California, Davis' Department of Human Ecology, Groundworks Office, the Delta Protection Commission, the University of California, Berkeley's Department of Landscape Architecture and Environmental Planning, and the Dutra Museum Foundation.
Four Coasts
DredgeFest is a roving event series, with the first four editions of DredgeFest spanning the four coasts of the continental United States.
The first DredgeFest was held in New York City on September 28 and 29, 2012. DredgeFest NYC was organized in partnership with Studio-X NYC, an arm of Columbia University's Graduate School of Architecture, Planning, and Preservation; sponsored by Arcadis, TenCate, and TWFM Ferry; and featured speakers and content from agencies including the US Army Corps of Engineers, National Park Service, Environmental Protection Agency, and New York City Economic Development Corporation. The event was covered in The Atlantic Monthly, Wired Design, Urban Omnibus,Dredging Today, Scenario Journal, Landscape Architecture Frontiers China, and Landscape Architecture Magazine. A full description and video archive of the event can be found here.
The second DredgeFest was held in Louisiana from January 11 to 17, 2014. Partners included the Robert Reich School of Landscape Architecture at Louisiana State University, the Coastal Sustainability Studio at Louisiana State University, the Center for Land Use Interpretation, Gulf Coast Public Lab, and Scenario Journal. A full description and (eventually) video archive can be found here.
The third DredgeFest was held in Minnesota from August 14 to 21, 2015. DredgeFest Great Lakes was hosted by the University of Minnesota's School of Architecture and Department of Landscape Architecture. DredgeFest Great Lakes was supported by donations and funding from the University of Minnesota Imagine Chair in the Arts, Design and Humanities, University of Minnesota Imagine Special Events Fund, University of Minnesota College of Design, University of Minnesota School of Architecture, Landscape Architecture Magazine, Great Lakes Dredge and Dock, Bay West, City of Duluth, and the Duluth Seaway Port Authority. Additional promotional support was provided by Minnesota chapter of the American Society of Landscape Architects. Event details can be found here.