DredgeFest Louisiana was a symposium, field expedition, and speculative design workshop about the human manipulation of sediments, held over seven days in sites in New Orleans and Baton Rouge.
January 11th – 17th 2014
Symposium / Jan 11th -12th / Loyola Univeristy
Film Screening / January 11th / CLUI Pontoon Boat
Design Workshops / January 13th-16th / Louisiana State University
Public Tour / January 17th / Dredge Landscapes
Why Louisiana? Sediment is foundational to Louisiana, playing a more obviously active role in the lives of Louisianans than in the lives of any other American state. We were excited to hold DredgeFest in Louisiana because we believe Louisiana is living in the future: experiencing the aggregate consequences of human activities for coastal regions sooner and faster than perhaps any other part of the nation, and experimenting with the tools, methods, and practices that will be required to cope with those consequences.
Geographer Richard Campanella has called the Mississippi River "the land-making machine." It is North America's largest river, discharging more than three times as much water as the next largest river in the United States. Historically, this is what the Mississippi River did: it made land, building its enormous delta—the southern half of the state of Louisiana—over the course of a mere five thousand years. It accomplished this by carrying approximately 400 million tons of sediment out of the center of the continent every year and spraying that sediment around the edges of its mouth. Even today, constrained by levees reinforced with articulated concrete mattresses, locked into a single course at Old River Control, and starved of sediment by upstream dams, the Mississippi River retains potent land-making power. This is readily evidenced by the growth of the Wax Lake Delta, a new delta southwest of New Orleans formed as a by-product of the reorganization of river flows for navigation and flood control. Nearly 200 million tons of sediment still flow every year down the Mississippi and its primary branch, the Atchafalaya.
At the same time, south Louisiana is shrinking. Sea-level rise, salt water intrusion, canal excavation for industrial purposes, and flood control along the edge of the Mississippi River have altered the balance between deposition, subsidence, and erosion. As a consequence, Louisiana has lost over 1700 square miles of land (an area greater than the state of Rhode Island) since 1930. Without a change in course, it is anticipated to double that loss in the next fifty years. Settlements from Lake Charles to Bayou LaFourche to New Orleans are endangered by this loss, both directly—as the land itself disappears—and indirectly, as the loss of barrier islands and coastal marshes exposes settlements to storm surge, while heralding the loss of the terrain that extractive industries, from oysters to oil, depend upon for harvesting resources.
This is the terrain that DredgeFest Louisiana entered into.
Partners DredgeFest Louisiana was organized by the Dredge Research Collaborative. Partners included the Robert Reich School of Landscape Architecture at Louisiana State University, the Coastal Sustainability Studio at Louisiana State University, the Center for Land Use Interpretation, Gulf Coast Public Lab, and Scenario Journal.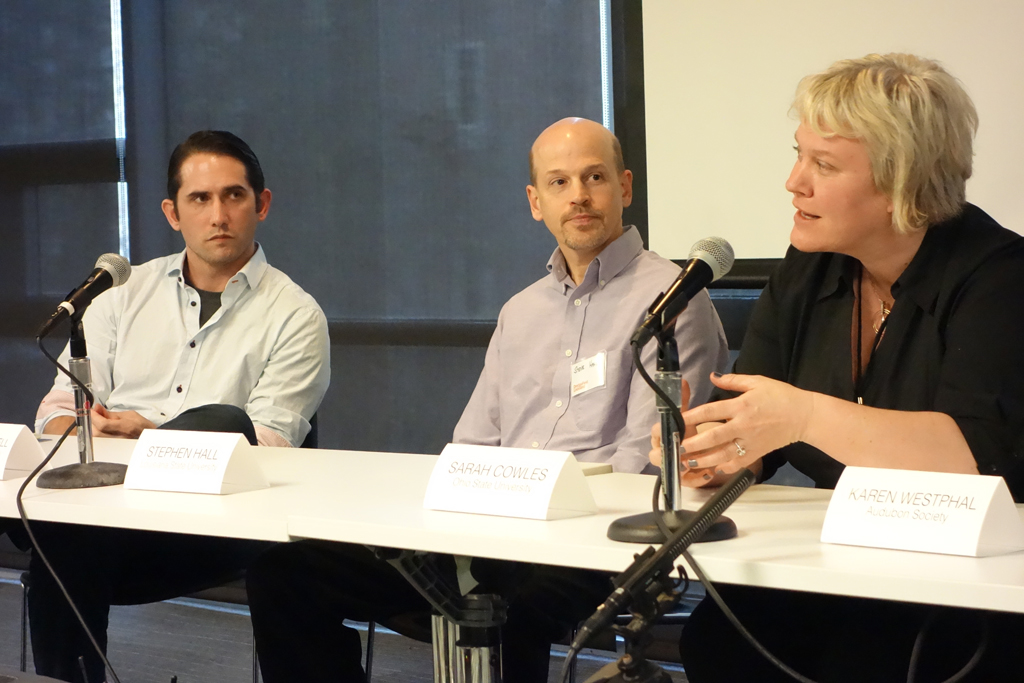 Symposium
The intention of the symposium was to bring together a broad mix of disciplines, corporations, public agencies and organizations in live public conversation, exploring and explaining the past, present, and future of anthropogenic sedimentary manipulation in Louisiana.
DredgeFest begins with dredging, the linear industrial activity of uplifting sediments and transporting them to new locations. But DredgeFest is about much more than dredging. We believe that dredging is a key component of a much wider cycle of human practices that accelerate, decelerate, transport, and materially alter sediments. We are interested in how the full range of technologies, practices, and organizations operating within that wider cycle collectively alters sedimentary balances, both eroding and generating landscapes.
The symposium at DredgeFest Louisiana investigated topics such as dredging methods, sea-level rise, the beneficial uses of dredged material, habitat restoration, marsh terracing, land loss, barrier island reconstruction, invasive species, revetments, spillways, floods, hurricanes, river flow models, advanced geotextiles, landscape robotics, novel ecosystems, feedback cycles, and turbidity curtains. We are curious about the instruments of public participation within the dredge cycle: grassroots organizations, volunteer efforts, environmental health and justice, the political economy of dredge. We are interested in the choreography of sediment along the length of the Mississippi, from Corn Belt farms to the Gulf of Mexico.
Note: links to video of each presentation and panel from the symposium will be added here as we are able to upload it.
1: Anthropocene Geography
"Canals and Coastal Land Loss"
Eugene Turner, Distinguished Research Master and Shell Endowed Chair in Oceanography and Wetlands Studies, Louisiana State University
2: Constructing the Mississippi
"Lower Mississippi River Navigation Channel: Current Dredging Practices in Louisiana"
Edward Creef, Environmental Operations Manager, US Army Corps of Engineers, New Orleans District
"Port of South Louisiana: Transportation Center of the Americas"
Paul Aucoin, Executive Director, Port of South Louisiana
"Bonnet Carré, the Mechanical Landscape"
Travis K. Bost, architectural designer and independent researcher (presenting)
Kees Lokman, Assistant Professor of Landscape Architecture, Washington University in St. Louis
"A Geography of Innovation: The Patented Riverine Technologies of the Mississippi River Basin"
Richard Hindle, Assistant Professor of Landscape Architecture, LSU
"Material Implications of St. Francisville Casting Fields"
Justine Holzman, Lecturer in Landscape Architecture, LSU
"Dam(n) It: Sediment Accumulation in the Missouri River"
Kees Lokman, Assistant Professor of Landscape Architecture, Washington University in St. Louis
3: Flow, Process, and Form
"Physical Modeling of Sedimentary Processes"
Clinton S. Willson, Professor, Department of Civil & Environmental Engineering, LSU
"Investigation of Sediment Diversions in the Lower Mississippi River"
Ehab Meselhe, Director of Natural Systems Modeling & Monitoring, the Water Institute of the Gulf
"Coastal Deltaic Floodplains: An overview of concepts and issues associated with ecosystem development of Wax Lake Delta, Louisiana"
Robert Twilley, Professor and Executive Director, Louisiana Sea Grant
4: Choreographing Sediments
Panel Discussion
Jeff Carney, Director, Coastal Sustainability Studio at Louisiana State University
Kyle Graham, Deputy Director, Coastal Protection and Restoration Authority
Derek Hoeferlin, Assistant Professor of Architecture, Washington University
Clinton S. Willson, Professor, Department of Civil & Environmental Engineering, Louisiana State University
5: Landscapes of Dredge
"Sub-surfaces: A Topographic Survey of the Salt Domes in the Gulf Coast Region"
Matthew Coolidge, Founder and Director, Center for Land Use Interpretation
"CWPPRA: Constructing Wetland Landscapes with Dredged Material"
Susan Testroet-Bergeron, Public Outreach Coordinator, Coastal Wetlands Planning, Protection and Restoration Act
"Spoil Island: Reading makeshift landscapes of dredge"
Charlie Hailey, Associate Professor of Architecture, University of Florida
Panel Discussion
moderated by Sean Burkholder, Assistant Professor of Architecture, University at Buffalo
6: Instruments of Public Participation
Panel Discussion
Windell Curole, General Manager, South LaFourche Levee District
Becki Chall, Development Manager, Public Lab
Scott Eustis, Coastal Wetland Specialist, Gulf Restoration Network and community organizer, Public Lab
7: Devices, Machines, and the Future of Dredge
"Operation and Use of the Small Dredge 'John James' for Small-scale Marsh Restoration at Audubon's Paul J. Rainey Sanctuary"
Karen Westphal, National Audubon Society Louisiana Coastal Initiative and the Paul J Rainey Wildlife Refuge
"Radical Erosion Control Aesthetics: A Provocation"
Sarah Cowles, Assistant Professor of Landscape Architecture, The Ohio State University
"Coastal Bioengineering with Sediment: Current and Future Work"
Stephen Hall, Associate Professor of Biological and Agricultural Engineering, Louisiana State University
"Emergent Devices"
Bradley Cantrell, Associate Professor and Director of the Robert Reich School of Landscape Architecture, Louisiana State University

Workshops
The DRC organized a set of fast-paced, intensive, and speculative small-group design workshops on the theme of dredge futurism—future scenarios related to the dredge cycle. The workshops were led by internationally-renowned designers selected for their current innovative work in advancing landscape architectural design methodologies, and asked to turn those methodologies towards the topics of dredge and sediment for four days. Products included mappings, models, digitally fabricated sediment flows, and robotics.
Adaptive Devices Bradley Cantrell, Justine Holzman
Developed a speculative strategy for large-scale sediment manipulation through controlled devices and monitoring. Built a device using Grasshopper, Firefly, and Arduino. Simulated the performance of this device using physical modeling.
Hybrid Landscapes Alexander Robinson, Richard Hindle
Developed and employed generative physical sand modeling and digital analysis processes to develop alternate, multi-performative formal logics for bay bottom terracing in Vermilion Bay. Matched existing terracing operations and approximate material investment. Evaluated designs according to introduced values and landscape performance metrics.
Regional Choreography Casey Lance Brown, Jeff Carney
Learned the difference between a strategy and a tactic. Utilized decision theory to help advance and organize project approach. Practiced the ability to think, analyze, and project on large scale while maintaining flexibility to changing circumstances and local conditions. Thought critically about the ramifications of reductionism in large-scale planning.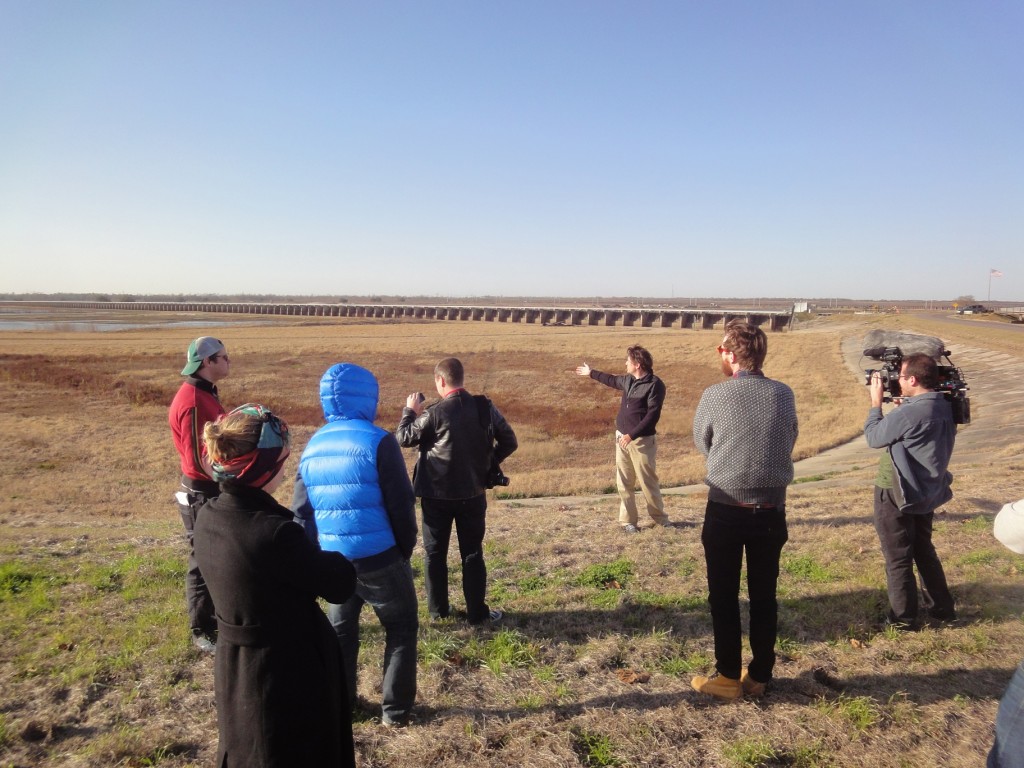 Tour
DredgeFest concluded with a guided public tour of landscapes of dredge in the lower Mississippi River Delta, focused on flood control infrastructures and wetland restoration projects. The tour was guided by the Dredge Research Collaborative and Scott Eustis, Coastal Wetland Specialist for the Gulf Restoration Network and Public Lab community organizer. We visited a succession of dredge landscapes near New Orleans, including a participatory micro-dredging project in New Orleans, the Bonnet Carre Spillway, Taft Holy Rose Cemetery, and the Davis Pond Hydrological Diversion.
Film Screening
We have been working for over two years with documentary film makers Alex Chohlas-Wood and Ben Mendelsohn on "The Fluid and the Solid", a documentary about earth-moving, sediment, and the Anthropocene. With the help of the Center for Land Use Interpretation and SIMPARCH, we were able to present an advance screening of "The Fluid and the Solid" at DredgeFest on the floating Tex-Hex Unit in New Orleans' Industrial Canal. The trailer for the documentary can be found at alexplusben.com.