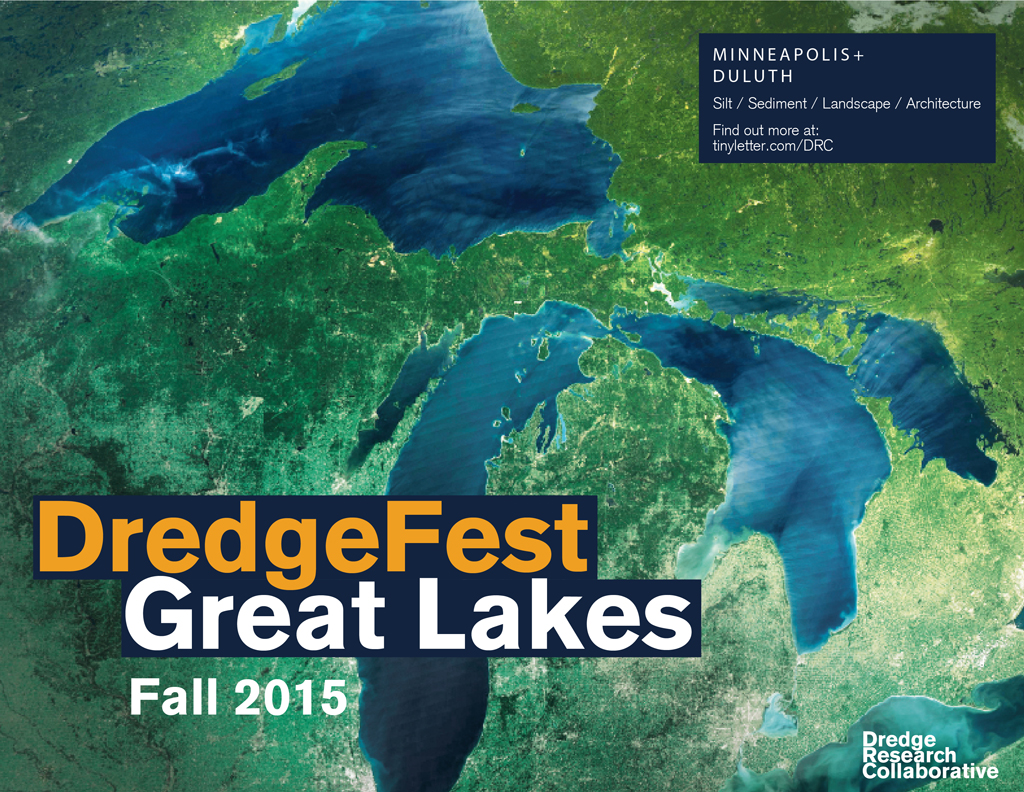 DredgeFest Great Lakes is an event — symposium, workshops, and tours — about the human manipulation of sediment on North America's fourth coast, the Great Lakes. It will be held in two Minnesota cities, Minneapolis and Duluth, from August 14-21, 2015.
Click here to receive updates about DredgeFest Great Lakes: tinyletter.com/DRC.
DredgeFest Great Lakes is organized by the Dredge Research Collaborative, in partnership with the University of Minnesota's School of Architecture and Department of Landscape Architecture.
Sponsorship
DredgeFest Great Lakes is supported by funding from the University of Minnesota Imagine Chair in the Arts, Design and Humanities and and the University of Minnesota Imagine Special Events Fund.
We are currently seeking additional sponsors for DredgeFest Great Lakes; interested parties should contact Rob Holmes (rholmes@dredgeresearchcollaborative.org).
Questions?
For media inquiries, general questions, or other matters besides sponsorship, contact Tim Maly (tmaly@dredgeresearchcollaborative.org).
Four Coasts
DredgeFest is a roving event series, with the first four editions of DredgeFest spanning the four coasts of the continental United States.
The first DredgeFest was held in New York City on September 28 and 29, 2012. DredgeFest NYC was organized in partnership with Studio-X NYC, an arm of Columbia University's Graduate School of Architecture, Planning, and Preservation; sponsored by Arcadis, TenCate, and TWFM Ferry; and featured speakers and content from agencies including the US Army Corps of Engineers, National Park Service, Environmental Protection Agency, and New York City Economic Development Corporation. The event was covered in The Atlantic Monthly, Wired Design, Urban Omnibus,Dredging Today, Scenario Journal, Landscape Architecture Frontiers China, and Landscape Architecture Magazine. A full description and video archive of the event can be found here.
The second DredgeFest was held in Louisiana from January 11 to 17, 2014. Partners included the Robert Reich School of Landscape Architecture at Louisiana State University, the Coastal Sustainability Studio at Louisiana State University, the Center for Land Use Interpretation, Gulf Coast Public Lab, and Scenario Journal. A full description and (eventually) video archive can be found here.